Reel KCS 500 ( Type 057 )
15 Cable reels and Utility reels
Reusable
Winding material : data cable, power cables, Extruded cables
Standard winding volume : 73000 cm³
Central bore Ø : 56 mm
Catalogue categorization: 15 Cable reels and Utility reels
Technical data - spools
Spools
Flange Ø
Barrel Ø
Central bore Ø
Width
Winding width
Flange thickness
Winding-
volume
Central bore Ø
tapered part
Drive-
hole/pin
Drive-
distance
d1 [mm]
d2 [mm]
d3 [mm]
L1 [mm]
L2 [mm]
S [mm]
V [cm³]
d4 [mm]
d5 [mm]
E1 [mm]
500
150
56
460
410
25
73000
Packaging
Designation
Cardboard box
Cardboard box weight
Cardboard box Outside Deminsions
Pallets
Pallet weight
Pallet's external dimensions
piece
kg
cm
piece
kg
cm
Reel KCS 500 ( Type 057 )
0
-
24
98
120x100x200

Important:
If pallet packaging is indicated, this is the preferred method of packing the spools. Please note that the pallets must not be stored in direct sunlight, as the heat build-up may cause the plastic to warp permanently.
Spools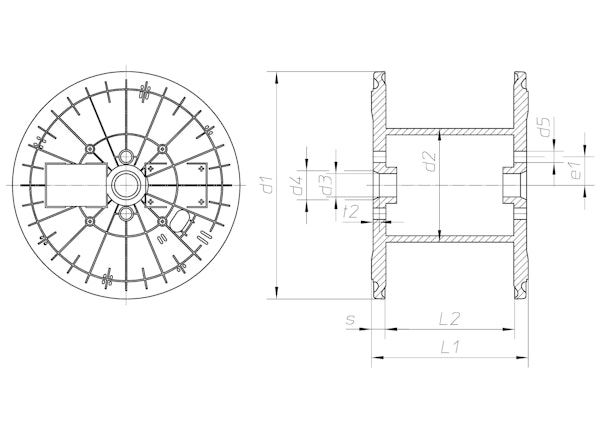 Data sheet
You can download all the information as a PDF here.
Download (PDF)
Set
Add data sheet for the set
Set