Reel LM 400/127-310
08 LM / EM reels, 07 General reels
Reusable
Winding material : data cable, power cables, Extruded cables
Material : PS | Material Information
Standard winding volume : 26860 cm³
Central bore Ø : 127 mm
Catalogue categorization: 08 LM / EM reels, 07 General reels
DIN 46395
Technical data - spools
Spools
Flange Ø
Barrel Ø
Central bore Ø
Width
Winding width
Flange thickness
Winding-
volume
Central bore Ø
tapered part
Drive-
hole/pin
Drive-
distance
d1 [mm]
d2 [mm]
d3 [mm]
L1 [mm]
L2 [mm]
S [mm]
V [cm³]
d4 [mm]
d5 [mm]
E1 [mm]
400
200
16 - 127
310
50 - 285
12.5
4712 - 26861
143.5
Packaging
Designation
Cardboard box
Cardboard box weight
Cardboard box Outside Deminsions
Pallets
Pallet weight
Pallet's external dimensions
piece
kg
cm
piece
kg
cm
Reel LM 400/127-310
0
-
54
162
100x120x206

Important:
If pallet packaging is indicated, this is the preferred method of packing the spools. Please note that the pallets must not be stored in direct sunlight, as the heat build-up may cause the plastic to warp permanently.
Spools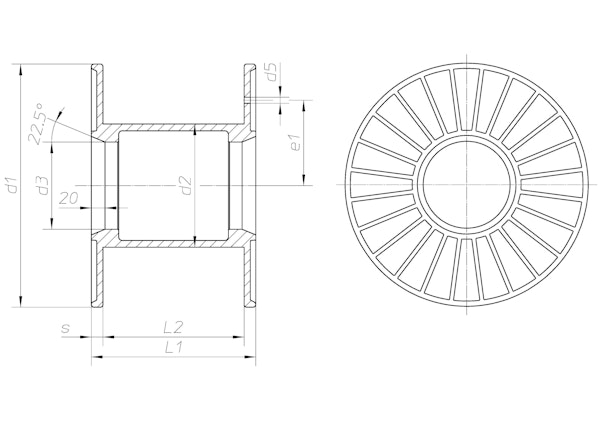 Data sheet
You can download all the information as a PDF here.
Download (PDF)
Set
Add data sheet for the set
Set