19 Reels and reel containers
Our containers protect the reels and winding material during transport and are also used during unwinding
Our containers protect the reels and winding material during transport.
In addition, they serve as an unwinding device (over end pay-off at high speeds) and are therefore supplied with an absolutely smooth inner surface. All containers have a window so that the fill level of the reel can be checked even during unwinding without lifting the cover. The pay-off opening has a fixed hinged cover. We recommend the use of appropriate load handling equipment for lifting and transport in the centre bore.In case of using the "rope" for lifting and handling, all components of the "system container" need to be checked for damage. The container is closed with a clamping ring which can also be sealed. The reel/container combination protects the reel and can be used repeatedly which means this method of shipping wire is quickly amortized. The available material qualities are shown in the table below.
IMPORTANT
Shrink-wrapped pallets of packages must not be stored in direct sunlight, as the heat build-up may cause the plastic to warp permanently. Shrink-wrapped pallets are the preferred mode of shipment for containers and reels alone or containers with reels. Smaller quantities of reels or containers or combinations of these are packed in sturdy corrugated cardboard boxes. On request, we also ship cardboard boxes on shrink-wrapped pallets. Overseas container shipping (20 feet or 40 feet) is also possible. Please ask for shipping quantities.
TOLERANCES
All dimensions, weights and loads stated are approximate values; tolerances and deviations which are customary for the industry remain reserved.
Material
HIPS = high impact polystyrene
ABS = acrylonitrile-butadiene-styrene
PA6 = polyamide
If there is a risk of the reels coming into contact with aromatic hydrocarbons (solvents) or being used at very low temperatures, we recommend the use of at least ABS or PA6. More detailed information on this can be found in our material data sheets.
Material Information
Spools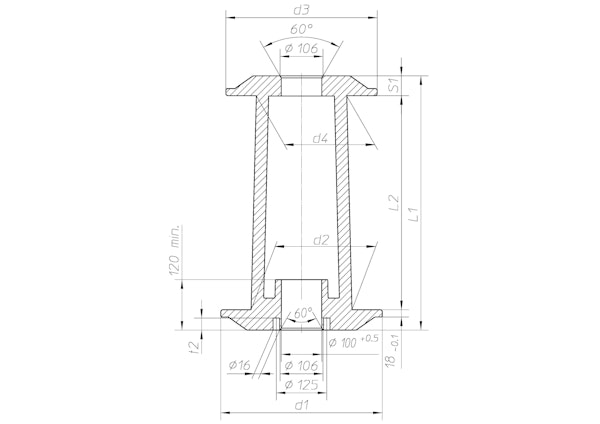 Container