05 Spools with tapered barrel
Matching reel/container combinations are also available for variable climate conditions. Delivery spools for enamelled copper wire and high speed over end pay-off for armature, motor and induction reel windings
USE OF REELS AND CONTAINERS IN ACCORDANCE WITH DIN EN 60264-3 IS ADVANTAGEOUS
Due to the special design of the reels (large winding width L2:d2 = 2.1), they carry a great weight of wire on a small surface area. The tapered shape of the barrel and the flange ratio (d1:d2 = 1.6) allow trouble-free over end pay-off of wire at high speed, and prevent wire entanglement. The winding space of the reels we supply is made of one-piece and is without any burrs or unevenness. This makes them suitable for relatively fine wire.
IMPORTANT
Shrink-wrapped pallets of packages must not be stored in direct sunlight, as the heat build-up may cause the plastic to warp permanently. Shrink-wrapped pallets are the preferred mode of shipment for containers and reels alone or containers with reels. Smaller quantities of reels or containers or combinations of these are packed in sturdy corrugated cardboard boxes. On request, we also ship cardboard boxes on shrink-wrapped pallets. Overseas container shipping (20 feet or 40 feet) is also possible. Please ask for shipping quantities.
OUR CONTAINERS ACCORDING TO DIN EN 60264-3-5 PROTECT THE REELS AND WINDING MATERIAL DURING TRANSPORT
In addition, they serve as an unwinding device (over end pay-off at high speeds) and are therefore supplied with an absolutely smooth inner surface. All containers have a window so that the fill level of the reel can be checked even during unwinding without lifting the cover. The pay-off opening has a fixed hinged cover. We recommend the use of appropriate load handling equipment for lifting and transport in the centre bore.In case of using the "rope" for lifting and handling, all components of the "system container" need to be checked for damage. The container is closed with a clamping ring which can also be sealed. The reel/container combination protects the reel and can be used repeatedly which means this method of shipping wire is quickly amortized. The available material qualities are shown in the table below. Spools 400/630, 500/800 and the containers are only supplied in ABS due to its high load capacity. More detailed information regarding the materials can be found in our material data sheets.
TOLERANCES
All dimensions, weights and loads stated are approximate values; tolerances and deviations which are customary for the industry remain reserved
Available materials
HIPS = high impact polystyrene
ABS = acrylonitrile-butadiene-styrene
If there is a risk of the reels coming into contact with aromatic or alphatic hydrocarbons (solvents) or being used at very low temperatures, we recommend the use of ABS or even PA. More detailed information on this can be found in our material data sheets.
Material Information
Designation
Flange Ø
Barrel Ø
Central bore Ø
Width
Winding width
Flange thickness
Winding-
volume
Central bore Ø
tapered part
Drive-
hole/pin
Drive-
distance
d1 [mm]
d2 [mm]
d3 [mm]
L1 [mm]
L2 [mm]
S [mm]
V [cm³]
d4 [mm]
d5 [mm]
E1 [mm]

Reel 200/315
200
112
100
315
265
25
5073
106
2 x 16
62.5

Reel 250/400
250
140
30.6 - 100
400
335
32.5
9709
106
2 x 16
62.5

Reel 250/400 E
250
140
30.6 - 100
400
335
32.5
9709
106
2 x 16
62.5

Reel 315/500
315
180
100
500
425
37.5
19768
106
2 x 16
62.5

Reel 315/500-E
315
180
100
500
425
37.5
19768
106
16 x 2
62.5

Reel 400/630
400
224
100
630
530
50
40585
106
2x16
62.5

Reel 400/630 E
400
224
100
630
530
50
40585
106
2x16
62.5

Reel 500/800
500
280
100
800
670
65
78454
106
2 x 16
62.5
Spools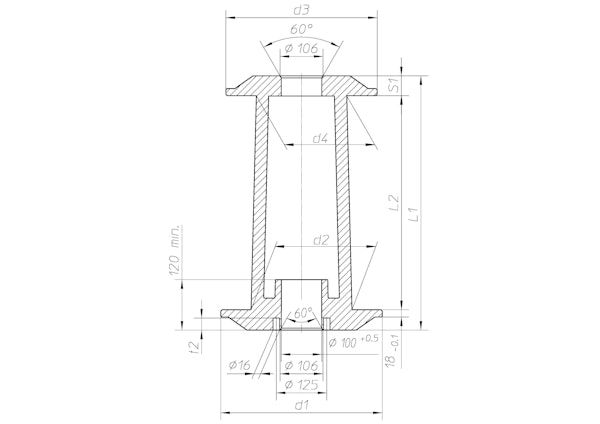 Container